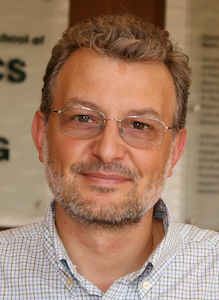 I am the Luddy Distinguished Professor of Informatics and Computer Science at the Indiana University Luddy School of Informatics, Computing, and Engineering, director of the Observatory on Social Media, and a member (and former director) of the Center for Complex Networks and Systems Research. I also have courtesy appointments in Cognitive Science and Physics, serve on the advisory board of the IU Network Science Institute (IUNI), and am a Fellow of the Center for Computer-Mediated Communication, a Senior Research Fellow of the Kinsey Institute, a Fellow at the ISI Foundation in Torino, Italy, and a Fellow of the ACM.
Research in my group, NaN, spans computational social science, network science, Web science, and data science, with a focus on analyzing and modeling the spread of information and misinformation in social networks and detecting and countering the manipulation of social media. We also study social computing, Web search and data mining, and science of science.
My calendar and mailbox are crowded. The most efficient way to schedule an appointment with me is to contact Tara Holbrook or Lourdes Gonzalez. For any matters related to the Observatory on Social Media, please use this contact form. Or as a last resort you can try your luck by email, phone (+1-812-856-1377), or in person (LU 2028).
Prospective students interested in joining my lab should look at this advice before contacting me. Then, if still interested, they should apply to one of our PhD programs: Informatics (Complex Networks & Systems track), Computer Science, or Cognitive Science. I am usually unable to respond to inquiries from prospective students unless they have already been admitted to one of these programs.
Recent News
- Including subsites: 1
- Subsites without entries not shown
- 10 posts
- Showing the excerpt.
- Category: fil
- Post Type = post